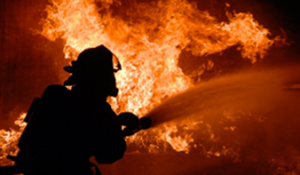 Stan Cooke
CRITICAL THINKING for the INITIAL IC
Instructor Bio
Stan Cooke started his career with the Spokane Valley FD in Spokane, Washington, in 1981. He has held the positions of Paramedic, Lieutenant, Captain, and was promoted to Battalion Chief in 2000. He has enjoyed retirement since August of 2018 after 37 fulfilling years in the fire service.
He has been qualified as a Type 3 Incident Commander and was an Incident Commander for one of three Incident Management teams for the Spokane County.
He is also co-developer of the Command Competency Clinic as well as Integrated Tactical Accountability System (ITAC).  These two programs have been taught by BC Cooke for individual fire departments, and at fire and life safety conferences in Washington, Idaho, Oregon, and Montana since 1998. Stan is also part of the teaching cadre for CDNeumanns Consulting facilitating the course GROWTH MINDSET for the FIRE SERVICE
Critical Thinking for the Initial IC
Course overview
On a structure fire the initial incident commander is faced with the expectation of making critical decisions in a compressed time frame. CRITICAL THINKING for the INITIAL IC uses Bloom's Taxonomy and Costas' Levels of Intellectual Functioning methodology in addressing Critical Thinking as applied to the Initial IC when dealing with structure fires.
We look at the components and relationship of 'Criteria Based Decision Making" with "Recognition Primed Decision Making" as they apply to fire ground decisions. Students will understand which criteria are critical and how to utilize these criteria in making effective decisions. Concepts involving Reading Smoke, Fire Dynamics, and Building Construction are tied together in an effective way that will improve the students' confidence in size-up and action planning. Learn why we 'do what we do', not just 'what to do'!
Subjects that will also be covered include:
Growth Mindset principles
Applying Critical Thinking to Strategic and Tactical Priorities
Pitfalls in Decision Making
This is a 16-hour class designed for the Initial Incident Commander, whether the student is a fire fighter, Company Officer or Response Chief. The student will see approximately 100 structure fires in this course. It is highly interactive; the student can expect to develop confidence and demonstrate critical decision-making skills.
Class Title: Steep Angle Rescue 16 hours
Instructor: Doug Clark
Class Size 16
Doug Clark is currently a Captain for Chelan County Fire District 1, and a member of the Chelan County Sheriff's Office High Angle Rope Rescue Team (HARRT). He has significant depth in the area of rescue. He began his rescue career in 1995 under the instruction of Reed Thorne of Ropes that Rescue, where he learned the fundamentals of the craft. He began teaching for several groups to include industrial, military, law enforcement, mountain rescue groups and many fire departments throughout the northwest. For the last 24 years, Doug has continued to instruct for various conferences as well as many private and government agencies. Doug has attained the Society of Professional Rope Access Technicians (SPRAT) level 2, is a swift water rescue technician, and a confined space rescue instructor. Currently Doug is instructing with Forum Consulting. Clients include Chelan County PUD, Chelan County Irrigation district, iFiber telecommunications, and the Douglas County Sewer District. Classes include rope rescue, confined space and tower rescue.
Dave Van Valkenburgh; NFA
Leadership in Supervision: Perspectives in Thinking - O0647
NATIONAL FIRE ACADEMY OFF-CAMPUS COURSE
Leadership in Supervision: Perspectives in Thinking
May 20-21, 2022
This two-day course provides the supervisor with the conceptual foundation and framework for
success in leadership roles by exploring creative, analytical, political and critical thinking
perspectives. The course addresses skills needed for assessing situations from multiple perspectives,
making critical decisions, fostering creativity and innovation, and using persuasion.
The primary target audience for this course is those individuals who are at the first line level of
supervision; Company Officer or Unit (fire prevention, fire education, communications, EMS, etc.)
supervisor level. "Team Leaders"
The secondary target audiences are fire and EMS personnel at the first line management level
(Chief Officer or above).

Class Title: Man Vs Machine
Instructors: 4 Brothers Training, LLC. provides quality fire service instruction focused on task and tactical level functions necessary for a successful fireground. Instructors include Leif Anderson, Dag Liljequist, Erik Olson, and Jim Walkowski
Responder vs. Machinery - Description of Class:  First responders are seldom called to mechanical entrapments that can range from a ring stuck on a finger to a construction worker impaled on rebar. Due to these low frequency, high risk events, it is imperative that responders develop a patient removal and care mindset that is often talked about, but very seldom exercised. Participants will learn various extrication methods, using hand, power, and hydraulic tools that will help achieve successful outcomes in these situations as you rotate through stations that cover scenarios such as crush injuries involving fingers, limb entrapments, and impalements. Size-up and lock-out/tag-out procedures are emphasized. Extrication techniques will be reviewed and innovative (non-traditional) patient care and treatment will be utilized. The tools featured include cord/cordless right-angle grinders, sawzalls, drills, and other extrication equipment as well as various hand tools. You will gain an appreciation for tools you have never used in this arena and a renewed respect for teamwork, and out of the norm patient care techniques. Participants will utilize BLS patient care techniques and procedures during extrication scenarios.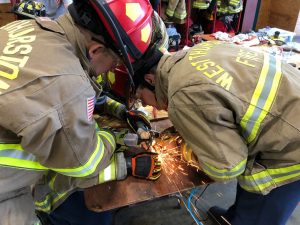 Class Title: Live Fire Training
Instructors: 4 Brothers Training, LLC. provides quality fire service instruction focused on task and tactical level functions necessary for a successful fireground. Instructors include Leif Anderson, Dag Liljequist, Erik Olson, and Jim Walkowski
SCBA 3 bottles.
Live Fire Training - Description of Class:  Learn when, where, and how to apply your hose stream for maximum effectiveness in single and multi-room fires. Techniques focus on the stretch up and down stairways, determining the best location for attack line placement, and combating fire extension to include stretching, advancing, and flowing hose lines. The instructor to student ratio will be 1:5 with additional support personnel to allow for rapid movement of the class through numerous rotations. Participants should have previous live fire experience. All live fire training will be conducted in accordance with National Fire Protection Association Standard (NFPA) 1403, Standard on Live Fire Training Evolutions, 2018 edition. Students must bring current NFPA-compliant personal protective equipment which includes turnout coat and pants, SCBA (with two extra bottles), SCBA Mask, helmet, hood, firefighting boots, and gloves.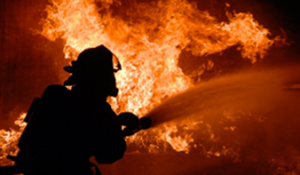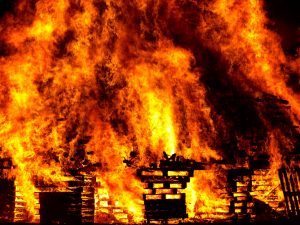 Class Title: First in Engine Company Operations
Class size: 14 
Instructors Chief L Creekmore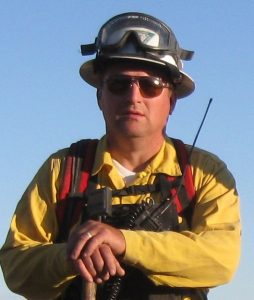 Lt. E. A. Wright (RET) served for nearly 40 years with both municipal fire departments and U.S. federal land management agencies. He holds a bachelor's degree in Communications and is a candidate for a master's degree in · Instructional Design. He is an experienced Task Force Leader, Burn Boss and Incident Commander with more than 12,000 hours of service under ICS/NIMS.Lt. Wright is an adjunct fire science instructor at Bates Technical College in Tacoma and with the National Fire Academy in Maryland. He has also served as a staff instructor at FDIC-Indianapolis.
National Fire Academy  

                                      ,
F-610, Wildland Urban Interface Firefighting for Structural Company Officers This two-day course Identifies operational activities and safety concerns for structural Company Officers (COs) assigned to a Wildland Urban Interface (WUI) incident.
Topics covered include:
Introduction to WUI firefighting, Interface environment
Wildland fire behavior
Command and control issues of WUI firefighting.
This course is designed for company officer or chief officers who may be in command of a single resource or Strike Team at the scene of a Wildland/ WUI incident.
Chris Grant
Class Title: Fire Officer 1
Over the past 30 years Chris has served as a Fire Department Health and Safety Officer and frequently assigned on scene as an incident safety officer (ISO). Chris has served as an ISO for structure fires, hazardous materials and technical rescue incidents. These experiences allow him to provide in-depth interaction on the topics that affect todays fire service.
NFA Contract Instructor since 2004 instructing the ISO and HSO curriculums. Speaker at FDIC on three occasions. IFSAC certified Fire Officer 4 and Instructor 3, member of Washington's IFSAC Technical Advisory Group.
Other Classes:
Wildland Urban Interface Firefighting for the Structural Company Officer: Edward Wright
Vehicle Extrication  MES
School Bus Extrication L.N. Curtis 
High Lift Jack: CANCELED 
Certified Evaluator: State Fire Marshal Office
Structural Fire Investigation; Chief M Harris
Situational Awareness on the Fire ground: Chief Scharffran
Essential Horizontal Ventilation Skills: Chief L Creekmore
Senior Evaluator/TCO: State Fire Marshal
Hazardous Materials Standardized Awareness Training Program, Indirect Delivery:  Rictor L Overlie CANCELED 
Tactical considerations for Attic and Basement Fires: Instructor Mark Emery 
EVIP Train the Trainer; Ray Lamoureux