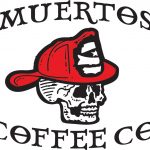 Washington State Firefighters Association has partnered with Muertos Coffee company. Which will donate a percentage of sales from Washington to our benevolent fund.
OWNED & OPERATED BY FIREFIGHTERS
Welcome to Muertos Coffee Co. We specialize in providing high-quality, subscription-based Coffee for Fire Stations, First Responders, and consumers nationwide. Our Direct Trade Coffee is roasted weekly in California for freshness and flavor.
As Firefighters, we strongly believe in giving back. We're committed to donating a portion of proceeds to Individuals in Need, Line-of-Duty Deaths, and Victims of Fire to the Washington State Firefighter's Association
Benevolent  fund.

Lifetime Membership:
This membership is for individuals only, it does not include department memberships.  When you become a lifetime member, you receive a WSFFA Challenge Coin, Gold Lifetime Members Card  and other items.
98th Annual WSFFA Conference and Fire School was a Huge Success. Thank you to all of the attendees, vendors and sponsors.
See you in May 2022, come back for updates.
Four Brothers Training group from Spokane conducted Live Fire Training on Friday, Saturday and Sunday at the Chelan County Fire Training. They will be returning next year for more live fire training .
More than 20 firefighters each day will be trained on the live fire. Fire fighters from around the state were being trained in controlling the environment of a fire in this session. The 98th annual Washington State Fire Fighters' Association Conference and Fire School is being held this weekend in Wenatchee.

SHOW YOUR SUPPORT GET ONE 
Volunteer License Plate
The WSFFA Benevolent Fund activities and benefits are financed through the revenue generated from the Washington Volunteer Firefighter motor vehicle license plate.2 Easy Steps!
Personalized license plate will eliminate the funding, such as using your department number F502. Only use a sequential numbering system (as shown in the photo above) this helps with the funding of our programs. Click on the link on this page to obtain your WSFFA Volunteer License Plate.
99th Annual Conference & Fire School
Save the Date May 20th ,21st and 22nd 2022
For the 99th Annual WSFFA Conference and Fire School.
We are excited to share our tradition of outstanding training and fellowship again in 2022. Not a member of WSFFA? Not a problem! You can still register and attend this yearly event!
Keep up with what's new and learn more about Legislative and General News regarding Washington State Fire Fighters' Association.
The Washington State Fire Fighters' Association was established in 1923.  The mission in part is to represent the volunteer firefighter. …
Read More
Learn more about how you can help support the Washington Fire Fighters' Association as well as donating, courses that are being offered, member benefits and more!