Due to the amount of revenue that was not paid when invoiced, from 2021 Fire School we will only be accepting electronic payments as the Preferred method of payment.
However,  we have opened the 2022 Annual Fire School to invoicing. Again the Preferred method of payment is electronic payment. All and any invoices must be paid no later than May 13th. No exceptions. 
99th Annual Conference & Fire School Registration Now Open.
Registration November  2021
Friday, May 20th - 22nd 2022
Pre-conference Courses
Live Fire Training May 19th Has been CANCELLED
Fire Officer 1 Starting May 17th with Practical's on May 22nd. Limited amount of Students for this course offering.
NOTE Classes are subject to change, check the class listing on in the registration section. 
Brought to you by the Washington State Fire Fighters' Association
We are excited to once again share our tradition of outstanding training and fellowship again in 2022. We have listened to past attendees and made every effort to create an interesting and challenging program.
The Annual WSFFA Fire School is brought to you by the commitment and volunteer efforts of the Washington State Fire Fighters' Association. Since the first Fire School in 1923, the goal has been to improve the safety of Washington's firefighters by offering superior training. Well trained and knowledgeable firefighters can better protect the citizens of their respective communities from the many hazards of daily life.
Each year, the WSFFA Fire School continues to improve and expand upon the courses offered to provide new and relevant training. From Basic Skills Training, Firefighter RIT Operations, to Fires in Hybrid Vehicles & New Car Tech, the WSFFA Fire School provides education in the skills and knowledge a modern firefighter needs to be effective while remaining safe.

99th Annual Conference & Fire School Key Note Speaker
Retire Fire Chief Stan Cooke
Cooke is a familiar face to many longtime residents of Newman Lake. When he lived there in the 1990s, he was the district's emergency medical services instructor and spent time serving on the fire district's board of commissioners.
Cooke, who moved away from Newman Lake in 2000, retired from Spokane Valley Fire in September 2018 after a 37-year career. He was a battalion chief for 19 of those years.
Cooke said the fire district reached out to him after the previous fire chief, Keith Yamane, resigned. "I was enjoying retirement," he said. "My name came up and they gave me a call."
This was not the first time Cooke's phone had rung. He's been recruited by several other departments, including some in Oregon and Montana. But Cooke, who lives in Post Falls with his extended family nearby, said he wasn't willing to move away from his grandchildren and turned down all the offers.
Cooke said he was attracted to the job because he would be returning to familiar territory and he wouldn't have to move. He said the district is small, and the job wouldn't be so time consuming that he wouldn't have time for his grandchildren. He admits he was a little hesitant.
"I'm outside my wheelhouse," he said. "I've never been in administration before."
Cooke said he's happy to be back on the job. "I found after I retired I still have a passion for it," he said. "I get energized around firefighters, and I love to teach and mentor."
He hasn't wasted any time in doing what he can to make the volunteer fire district better. The new Station 1 built at 9324 N. Starr Road a few years ago includes four dorm rooms for resident volunteer firefighters, but it's been a little empty.
"They only have one, but he's leaving," Cooke said. "My goal is to have four resident firefighters so I can furnish coverage at night and on the weekends. So far I've got two."
Those two will start work in mid-May. Cooke said he's also trying to recruit new volunteers to help respond to the fire, medical and car crash calls they receive. "It's a large commitment for people to volunteer," he said. "They've got a dedicated core of volunteers that would make any community proud."
Coast Wenatchee Center Hotel is offering special room rates for Fire School and Conference  attendees.  Call 800-716-6199 and mention WSFFA Fire School. Room rates set at $119.00 per night. Cut off for room availability is May 7th 2022. Make your reservations as soon as you register.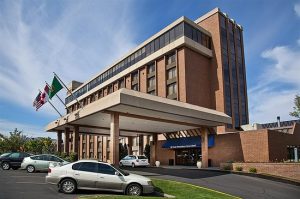 On-site class locations appear on these floorplan maps. Click on image to view larger version.
Off-site classes and instructors will meet in Fuji Room 4 on the lower level before proceeding to your training locations.
Best of the Best Award Winners & Sponsors: 2021